I've always said that you should judge an airline by how they handle it when stuff goes wrong. China Southern are now in my good books of airlines I can trust when things get sticky.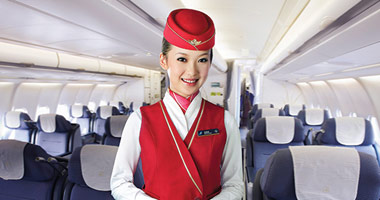 These guys made a spectacular effort while flying through Guangzhou, turning what could have been a really really bad day into a happy return home. Myself and a travelling companion were checking-in from the far west of China, the city of Kashgar (Kashi), but a rather sultry girl at the counter refused to check out bags through to our international connection.
We never found out why this happened and at the time it didn't really matter, we just knew that ahead of us lay a 90 minute transfer across one of the biggest airports in the world, a task made nearly impossible by virtue of having to collect our bags at one terminal and check-in again at another. Guangzhou airport is so big it makes Bangkok Suvarnabhumi look like a tin shed.
Travelling in the far west of China will test the patience of any person and I was already spent of all joy, so this little hiccup struck me as just plain unfriendly.
7 hours later we arrive in Guangzhou, a little behind schedule and rather low on hope. A little lady named Rain was waiting for us both holding a sign and wearing high heels, but she ran faster than either of us could keep up with. She headed off down the side exit from the air-bridge and within seconds we were standing beneath our aircraft in search of our luggage. It all happened so fast, I felt like a special guest star on Amazing Race.
While Rain was zippy and efficient, the baggage blokes were stubborn and determined. We dragged one bag off the carts but two others were still hidden under a pile of other luggage. I watched the cart driven off while pointing at my second bag, and we never found my companions suitcase. Our adventure hit a sudden moment of chaos.
Rain mumbled into her walky-talky and without breaking stride a van pulled up and we stepped right onto it. Through out the drive she's chatting to an office somewhere inside the mega-complex that is Guangzhou International Airport, sorting out which bags were still "in the system" and which one was in my hand.
What is usually a thirty minute process getting from Domestic to International was reduced to a five minute drive. We emerged inside the arrivals hall and I struggled to keep pace with Rain as she ran ahead of me in her high heels, like a little gazelle dressed in blue with optical correcting glasses. She ditched the walky-talky and started making calls on her smart phone, and by the time I had my rescued bag checked in at the transfer counter she announced that the other two have been grabbed and retagged.

We got confirmation that all the luggage was now aboard the aircraft, 10 minutes before the flight was effectively closed. The bags had made it and it looked like we would too.
In the minutes ahead we ended up with new boarding passes, new baggage tags and an express jaunt through necessary channels. The slowest part was waiting in line for the security check while business class travellers struggle to get their head around the concept of taking stuff out of their pockets and putting laptops in a separate tray. Apparently money doesn't make you any smarter or any more considerate.
The final thrill ride was in the electric buggy usually reserved for disabled people, with a very lovely Cantonese man improvising the "beep beep" noises because his cart had no horn. He was one of those chaps who talks with a smile, you can hear it with every word, and was probably enjoying the scoot and scurry as much as we were.
Gate A3 was about a kilometre from the final passport clearance and we arrived just as the plane was being loaded. Rain had slipped on a bit of lipstick while waiting for us to clear security check and had taken a few selfies with her phone already, in preparation for a group shot. The driver took the photo of us together while we stood with Rain and said "Yi, Er, San, Qiezi!"
We made the flight, the bags made the flight, and all ended happily. Better than that, my journeys in the far west of China had been something of a tough ride for me, so this little reminder of what modern China is capable of was well needed to restore my faith in their country. Rain is both exceptional, and typical.
I fly on a lot of airlines in the course of a year and very few make an impression on me. Most are banal and rather disappointing, and to be perfectly honest there are very few that come close to the consistency of service I get from Thai Airways. Yes, I'm a Thai fan and probably will be for a long time to come.
But now I know what I can expect from China Southern. Annoying passengers who smoke mid-flight, an extensive network that covers China like no other, some good in flight service from the attentive staff and dreadful meal parcels that wouldn't pass for food in a Los Angeles high school.

But they will move heaven and earth to get you and your bags home on time, and always with a smile.
www.flychinasouthern.com